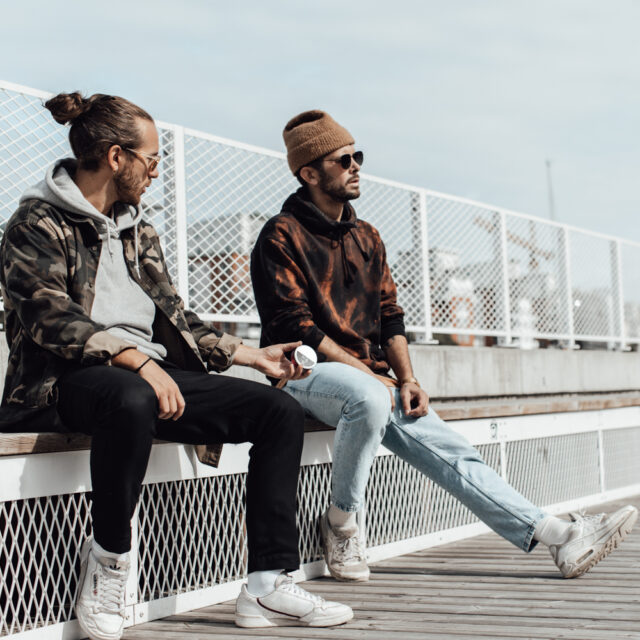 "We meet RMK & Toppen in their studio south of south in Stockholm.
RMK & Toppen is a duo consisting of Rikard de Bruin and Marcus Larsson who have been making music together for almost 10 years. Rikard's west coast dialect reveals
that he is descended from the idyll Grebbestad, but he has lived in Stockholm since 2006 when he moved there to study music.
Marcus, who originally comes from the outskirts of Stockholm, wrote his first song when he was 15 years old. In 2012, they released their first song together and have since
joined forces as a duo RMK & Toppen in adversity. They have written and released hits such as "OSS" and "Gå Mot Rött" and which today have millions of streams on Spotify.
XQS is now in the picture in connection with RMK & Toppen releasing their new single "Läget Då?". They have both been sniffing for a long time and today it is a matter of
course that there is always a box in the studio. The favorite is for Marcus is "Fizzy Cola" while Rikard is more of an omnivore and likes most varieties, but if he has to choose
at the time of writing, it will be "Black Cherry".
As for all artists, Covid-19 has created problems and they both now hope that it will someday release so they can come out and gig the new single. But in the absence of that opportunity, they instead create music as they have recently had a resurgence. When they are not writing their own material, they also produce for other artists.
We hope that in the near future we can come up with something more for your customers and with RMK & Toppen's help create some good music and gigs